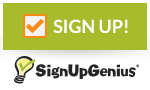 Click Sign Up Genius to sign up
for one of our scheduled service opportunities.
The Heights Interfaith Ministries (HIM) Food Pantry is 100% volunteer driven. We have no paid employees — our volunteers do the work of helping the hungry in our community. Our volunteers are priceless; each one brings his or her own gifts to the Pantry. Volunteers are vital to continuing and growing the vision of the HIM Food Pantry.
Volunteers are always needed and always welcome. Volunteers can sign-up to work on our scheduled service days (e.g., every Thursday, one Saturday per month, etc.), or volunteers can simply come and work as they can whenever the Food Pantry is open. We welcome all ages, and serving with us is a wonderful way for youth to earn community service hours for school, Girl Scouts, Boy Scouts, and other requirements. THE YOUTH ARE THE FUTURE OF THE PANTRY.
♥ We love our volunteers! ♥